If you are interested in studying the occult and magic, you will quickly run across the "Law of Three".
Summed up, this rule says that what ever you put out into the World using magic, will be returned to you three times over. Put out good vibes and spells of helpfulness, and you will receive back three times the joy and happiness. Put out curses and ill will, and you will receive back three times the hurt and misfortune. Its repeated some much so in the occult community, especially from supposed wise elders to the beginners you'd almost think it came down from the mountain with Moses.
Its wrong though.
That rule grew out of the 60's resurgence of paganism and Wicca, as a rather good little bit of public relationship. Remember Christianity burned witches not too long ago, and even in the 60s, if you were living in a small town and got the reputation as one of "those" people you could count on being shunned, if not ruined before being run out of town.
The Counter Culture embraced many things the Establishment disapproved of, including occult practices, astrology and Eastern mysticism as a way to rebel but then not rebel too much that it got them burnt at the stake. True, the push back from the "good" people against those long hair, freaky hippy types was still pretty intense but it wasn't long before such interests were tolerated. Housewives lighting candles and saying love spells seeped into suburbia.
The "Law of Three" then became a way to differ the good witches from the few that were "bad". If the Stevie Nicks looking flower child at the corner book store said that if SHE did a curse, it would come back three fold onto her, then obviously she was a good witch. And wouldn't be corrupting the young people who were patronizing her shop.
The problem is there isn't any indication in history that is is the case In fact just the opposite. Many of the wizards and sorcerers advising kings were using their magic to bring ruin on that king's enemies with no sort of consequences. Not only no consequences but actually they were being rewarded. Movies and television only re-enforced this fact.
And yet, there are examples, more than a few, where magical practitioners of recent history have experienced blow back for obviously harmful spells against others.
Where does that leave the occult beginner?
---
A bit of background for a moment,
Recently I read a discussion on the morality of intent and the raising of power with magic that I think better explains the dangers for a beginner in using magic to affect their reality.
I am in the process of paring down the collection of science fiction and fantasy art which I have acquired over many years of going to conventions. I plan on moving into a much smaller residence by next Spring, and just won't have the wall space to display my collection.
Many of the pieces I'm selling but a few are ones which have an occult significance. One of these is this piece by the artist Mitch Foust.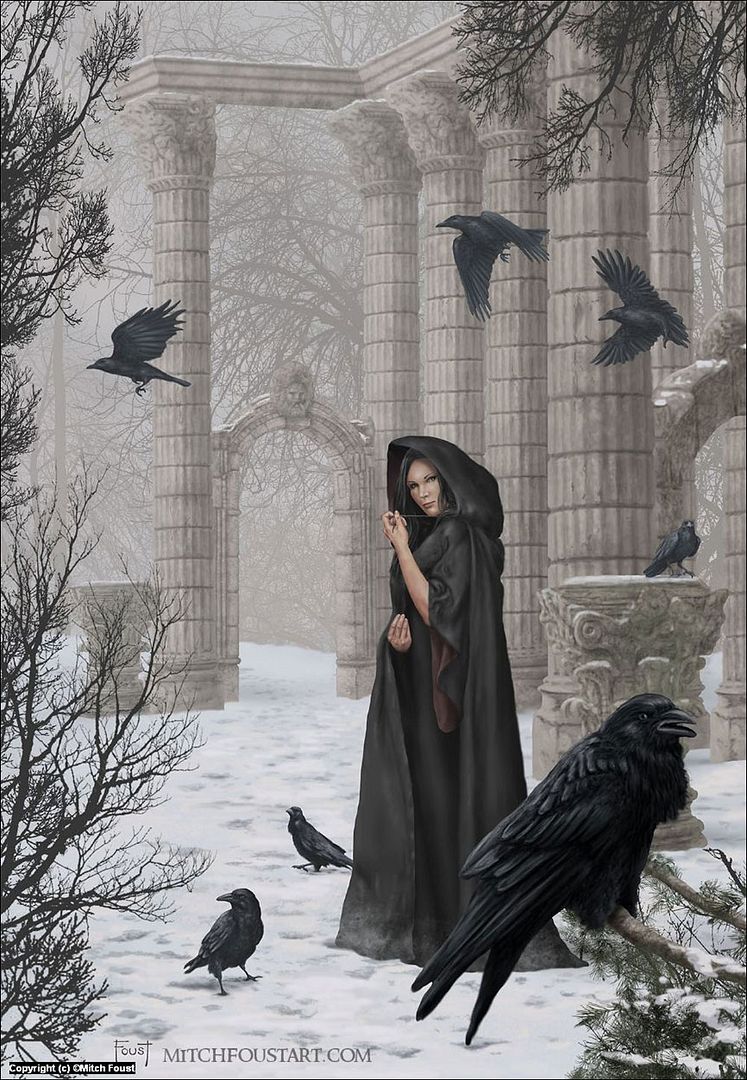 The title of the piece is "Morgan LeFey". She is known from book and film as a powerful sorceress and sister to the legendary king Arthur. She is also a spirit you might as a shaman work with, though in Celtic lore there is some argument whether she is a separate spirit or merely a facet of the larger spirit "The Morrigan".
For some time, I had been thinking perhaps that the Morrigan was connected with the goddess I worship, Hekate, as a reimage of Hekate in a far off land from her birthplace, Asia Minor. Both goddesses are triplicate goddesses, having three faces and aspects. Both goddesses are considered to be Queens and powerful.
I wondered if this print could then be used in my devotionals with Hekate?
In researching this relationship I picked up Courtney Weber's book "The Morrigan, Celtic Goddess of Magik and Might". It didn't take me much reading to see that the two are separate, unique and the print would be better passed on to another person. If the Celtic deities are of interest to you, and if the Morrigan calls, Weber's book is a good place to start.
That said, Weber has a chapter which discusses working with spells and magic (she uses a K, to differ the spiritual side from the sleight of hand variety) and its from that chapter that I want to reference about why the "Law of Three" is wrong.
Celtic history is one of great passion, especially on the battle field. It was a place that not only did the warriors fight but also the magic users. Druids and shamans are often seen there, adding their spells and magic in an attempt to sway the tide in their tribe's favor. The gods too took an active part.
And yet there is very little mention that when a shaman cursed a foe, or made magic to affect the battle against their foes, that their magic rebounded back on them. Especially not in a three times way. If they were not affected, then why would a shaman of today be faced with such a restriction?
There are clear times when people try to do you wrong, and just as skill at arms or intellectual prowess is useful to protect yourself, so too is any magical knowledge you might have. I doubt a war goddess like the Morrigan would look kindly on you for neglecting a sword in your belt just to appear virtuous.
Not that there are not spirits out there who wouldn't want you to only do pacifistic good.
Weber makes the distinction that it is not the intent of the magic working which causes problems but the underlying issues that the magical practitioner has and has not worked to address.
She likens your mental state to a large concrete room.
In that room are the issues and problems you still have. Are you taking care of your body and mind? Plenty of rest and healthy food? Are you being a good friend to your companions and family? Do you address wrongs you have committed in the past and try to not do harm in the present? Any and all of these can leave clutter in the room of your mind.
And as a magic user, even more importantly, how is your spiritual center?
Are you right by the patrons and allies you work with, or do you neglect or even abuse those relationships? How heavy is your walk on the natural world and your conduct towards the animal, plant and earth realms?
All of this kind of mental and physic clutter will affect the way the forces of magic and the actions of the Spirits have in your life. A life that is balanced and in harmony, is like a concrete room that is bare, well sweep and clean. An unbalanced life though, fills that concrete room with distractions and misdirections.
Magic and the power that Spirits have is like Fire.
Fire is a tool.
It can be a warm fireplace on a Winter night or it can be a hot raging bonfire. Fire can be the gentle flame of a candle, or the spark which burns down your home.
Fire has no morals. When properly handled it can do useful work. When treated without respect, it can do great damage and harm.
Magic is like fire in that concrete room of your mind.
In an uncluttered room, it can be managed well. Magic like a fire tends to throw off sparks at times. In a clean room, those sparks tend to quickly go out and do no harm. The fire in a clean room is there to be put to useful work and purpose.
In a cluttered room, those scattered sparks have a chance to catch and find fuel. Quickly they can grow and spread, and soon they can overwhelm the useful work you are trying to do. The magic goes off track, sometimes with disastrous consequences.
Even well intentioned spells can misfire when you have an unbalanced life. Intent, a magic user's most important tool, can go off course and cause results you don't expect or don't want.
Add to that is the fact that Spirits, especially the more powerful ones like those we would call deities, sometimes have real difficulty understanding humans. Even the ones that love humans. They hear what we say we want, but under that intent are distractions. If you have issues yet unresolved, I can see how perhaps a spirit would wonder if what we say isn't exactly what we want.
What many have seen then as a response the "Law of Three", is then not a wrong response to a selfish or evil purpose but a proper response to a desire we didn't realize we had.
Those of you who decide to walk the dark path of the occult realms, need first to know yourself well and work to make yourself better.
That is the Law you should obey.